Call 1 800 379 7267
for Current Prices and promotions
Portable, Professional, and Equipped for End-to-End IP Produce and publish extraordinary video content for screen and audiences of all sizes with the most complete, compact multimedia studio in the world—TriCaster® Mini Advanced.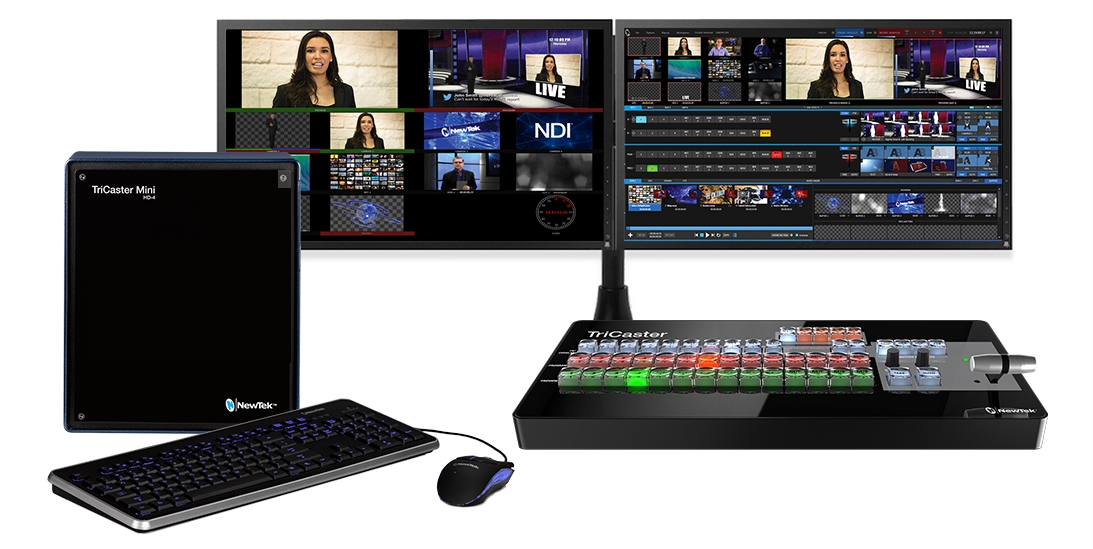 Real Video Production. No Experience Required.
You don't have to be a video expert, own a studio, or know your way around a broadcast control room to deliver your message through video with network-quality results. With an all-in-one design, do-it-yourself setup, and hundreds of entry-level and advanced production capabilities, you can be on your way to captivating audiences from anywhere within minutes of opening the box.
HD switching, streaming, and recording
8 external video inputs and 4 mix outputs
Connect to compatible IP devices via NDI®
Streaming to Facebook Live, Twitch, and more
Real-time social media publishing
Multi-channel recording and internal storage
Video playback without any additional hardware
Built-in live titling and motion graphics
Multi-channel audio mixing
SDI, HDMI, and case display options available

TriCaster Mini With our New PLP Mini road case
Read more about the PLP Mini road case here
Our New TriCaster MIni PLP Road case is the perfect way to make your TriCaster Mini Mobile. It includes a 22" 1920 X1080 HD monitor . Easy access to the Computer and I/O ports makes setup quick and easy. The Mini is protected in our proprietary shock mount in the case . The control surface is stored for easy access along with the keyboard mouse and power brick. And everything starys hooked up saving wear and tear on the connectors. No more getting to the job just to find you forgot to bring the accessories. Plus with our pull out handle and wheels moving it around is easy too.