The ATEM Models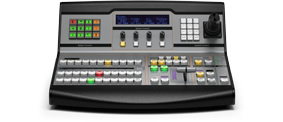 ATEM 1 M/E Broadcast Panel - $4,995
When the software control panel is too limited, the ATEM 1 M/E Broadcast Panel is a professional panel with the highest quality buttons, knobs and controls for the most demanding 24/7 live production environment. The ATEM 1 M/E Broadcast Panel is compact so it fits within a rack width! You get full control of your switcher, including cameras, transitions, keyers, fader, DVE control and more. ATEM 1 M/E Broadcast Panel connects via ethernet and includes a loop thru connection for more than one panel or computer.
ATEM 2 M/E Broadcast Panel - $14,995
The incredible ATEM 2 M/E Broadcast Panel has the power for the most complex live broadcast events and it's perfect when you have the space for a large panel and need all the control at your fingertips. The ATEM 2 M/E Broadcast Panel features an amazing design that not only looks incredible, but perfectly positions all controls just where you need them for the ultimate creativity on complex multi layer live production. The ATEM 2 M/E Broadcast Panel connects via ethernet and includes loop thru for your media management computer.

ATEM 1 M/E Production Switcher - $2,495
Get the workflow of a traditional 1 M/E SDI switcher combined with a very portable compact 2 RU size and a software control panel you can run on your laptop! Includes 4 SDI inputs, 4 HDMI inputs for consumer cameras or computers, analog input, and SDI, HDMI and analog outputs including down converted SDI output and USB 3.0! You even get a complete frame resynchronizer on every input! You also get professional features such as stinger and DVE transitions, 6 keyers, multi view, built in media players and more!
ATEM 2 M/E Production Switcher - $4,995
ATEM 2 M/E Production Switcher is perfect for when you're working on serious live production. It includes all the features of the 1 M/E model in a compact 3 RU size. You also get 16 simultaneous inputs, SuperSource multi layering compositing engine, 2 multi view outputs, second M/E row, and a total of 6 Aux. outputs. The ATEM 2 M/E Production Switcher also includes a software control panel, or you can purchase a dedicated 1 M/E or 2 M/E control panel for the ultimate solution that's traditional and easy to use in any live event!

ATEM Television Studio - $995
The production switcher for the internet age! ATEM Television Studio is a full broadcast quality production switcher with real time H.264 encoding so you can capture live events directly to files for internet distribution! ATEM Television Studio includes 6 video inputs with both broadcast SDI and consumer HDMI inputs for cameras and computers. You get software control panel, chroma keyer, two media player frame-stores, downstream keyers, transitions and more! Also works with ATEM control panels!

ATEM Camera Converter - $595
Get everything you need for cameras in live production with a single converter! Connect your camera's SDI or HDMI outputs for conversion to optical fiber, while your switcher program feed can be fed back via optical fiber for camera monitoring. ATEM Camera Converter includes an internal battery, talkback, tally, and microphone inputs!

ATEM Studio Converter - $1,995
ATEM Studio Converter is the ideal partner for the ATEM Camera Converter. Connect up to four Camera Converters via optical fiber up to 28 miles away with bi-directional video plus tally and talkback! Connect your ATEM switcher program output to the ATEM Studio Converter and this is distributed to the four Camera Converters. Multiple Studio converters can be cascaded together when more than 4 cameras are needed. Studio converter can also be used as four independent SDI or Fiber to HDMI converters and four independent simultaneous SDI to Optical and Optical to SDI converters!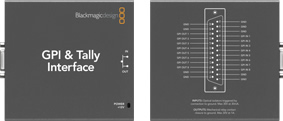 GPI and Tally Interface - $495
GPI and Tally Interface connects to an ATEM switcher and provides 8 contact closure Tally outputs. Tallies will be displayed when connected to an ATEM switcher to indicate their "on-air" status and you can even connect multiple interfaces together to increase the number of tally outputs.