The 3Play™ 820 interface is simplistic by design. Intuitive by nature. With features that you can configure to suit your needs. Utility, without complexity. Configuration settings that are easy to access during live events. Clips list. Playlist. And a pop-up Dashboard. Woo-hoo.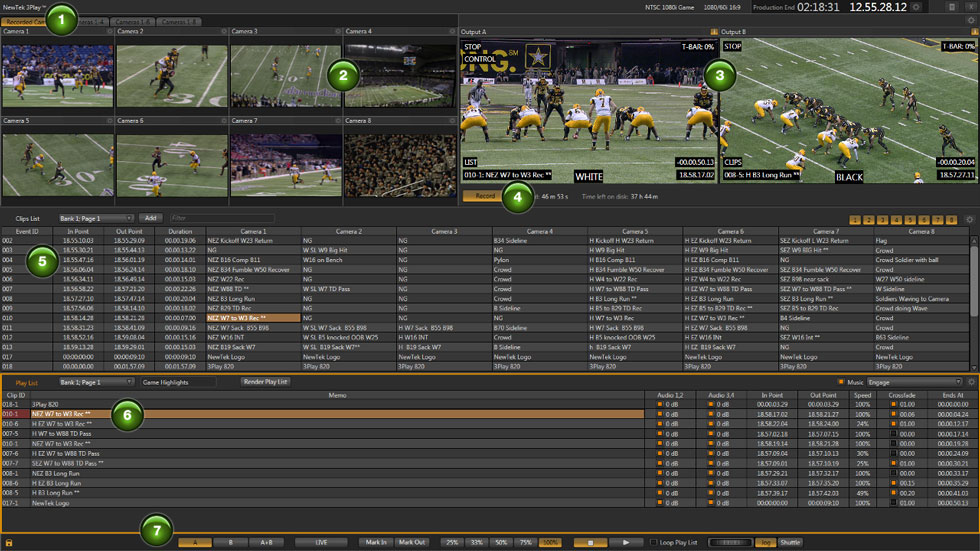 REPLAY INTERFACE is the control center for your 3Play 820 production. Connect up to eight HD or SD cameras, audio sources, and the included 3Play 820 CS control surface to manage recording, playback, clip marking, playlist creation, and more.
LIVE DESKTOP MONITORS let you view the action from every angle, with interactive, full field rate displays. Integrated multi-view monitoring allows you to select from additional monitor layouts and send all on-screen monitors to a second display to enlarge your workspace.
OUTPUT MONITORS show the output being sent through the two simultaneous, independent playout channels. Camera angles can even be switched during live playback. Full field rate displays include the option to show or hide HUD (Heads-Up Display) information.
ONE-BUTTON RECORDING simultaneously captures video from your choice of up to eight cameras. 3Play 820 also supports automatic recording (activated by performing select operations).
CLIPS LIST provides quick and easy access to all available clips (or events) for immediate playback. Clip notes can be entered for each camera view of an event, allowing you to find and replay the right highlight from the best angle – instantly.
PLAY LIST lets you create highlight reels or compile clips for sequenced playback. The play list includes independent speed controls for each clip (for real-time, slo-mo or high-speed playback) and provides options for background music tracks and transitions.
INTERACTIVE DASHBOARD lets you view active settings on the 3Play 820 CS control surface, or manage 3Play 820 operations without using the control surface. On-screen controls include playback speed presets, output mode, mark in, mark out, and transport.