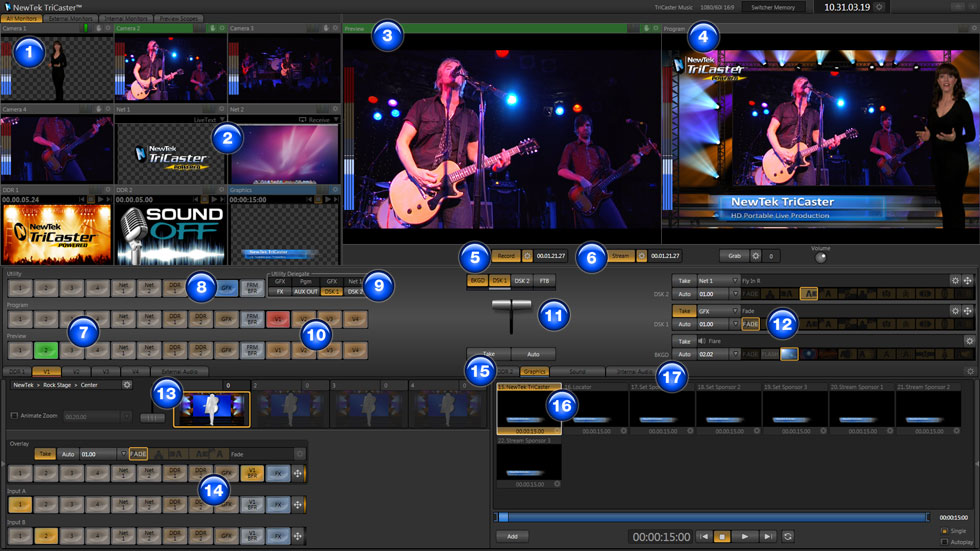 Live Desktop Monitors
Select from a variety of layouts for previewing production sources. Full field rate displays include audio VU meter overlays and alpha channel transparency checkerboard.
Network Sources
Share computer screens or displays from wireless Apple® AirPlay® devices, like iPad®, iPhone®, or iPod®, connected to the same local network. TriCaster 455 also accepts network output signals from NewTek 3Play™ systems and TriCaster 8000 systems.
Look-Ahead Preview Monitor
Setup and preview your next shot before it goes live, including any titles and overlays to be applied.
Program Monitor
View the primary video output being broadcast, streamed, projected and/or recorded.
Recording
Capture video from up to four individual sources simultaneously with integrated IsoCorder™ multi-track, multi-format recording technology. Files are recorded at native resolution and compatible with every major non-linear editing application, computer operating system and media sharing website.
Live Streaming
Launch live streaming video of your show to the Web with simultaneous archive, at the touch of a button. TriCaster 455 includes presets for the most common streaming profiles, in resolutions up to 720p, with support for custom multi-bitrate stream profiles.
Live Production Switcher
Control all 14 channels, including external video and network sources, virtual inputs, and internal media sources.
Utility Row
Select sources directly from the switcher for the FX bus, DSK channels and AUX output.
Utility Delegate
Set the Utility Row to send video and graphics to the FX bus, DSKs or AUX output.
Virtual Inputs
Mix multi-source compositions or create complex video effects and assign to a single button. TriCater 455 includes four fully configurable virtual inputs, each with multiple presets.
Transition Controls
Dictate the flow of shots, transitions and effects, with control over the primary video layer and DSK channels.
TransWarp Effects
Supported on every available effects channel, the TransWarp effects engine is simply the most powerful integrated effects system in live production. TriCaster 455 electrifies live video, DSKs and overlays with full-color animation store transitions, complete with embedded audio and 3D warping of video. The integrated Animation Store Creator application also allows you to build custom transitions and effects, with eye-catching visuals like real-time cloth dynamics, 3D transformations and motion overlays.
Live Virtual Sets
Get the look of a network-style studio, complete with real-time reflections and specular highlights. TriCaster 455 includes 24 HD virtual sets in a variety of styles and settings, each with multiple angles, virtual camera shot presets and animated zoom control. Select sets also feature double-box effects.
Virtual Input Panel
Select two primary switcher sources, create a mix/effect-style composition, and use additional source as an overlay. Configure virtual sets, layer live elements, set upstream picture-in-picture effects, and more.
DDRs
Load and playback video clips, packages and motion graphics. TriCaster 455 offers native support for an extensive range of file formats, allowing you to work with essentially any media asset you're given.
Graphics
Display images, apply titles or present static graphics. Choose from and edit templates in a variety of styles and designs, or import your own graphics for a custom-branded live production.
Multi-Channel Audio Mixer
Deliver pristine sound with adjustable audio controls for internal and external sources, plus outputs, including audio-follows-video, sub-mix routing, and a seven-band equalizer and compressor/limiter on every source and output. Touchscreen remote control is also in the mix, via the companion iPad audio mixing app.